Generally in Alphabetical Order but with Some Obvious Placement of a Couple of Categories at the Top

Home

Toys

Games

Dolls & Accessories

Articles: Virginia's Veranda

About Us & Picture

Books, Modern

Books, 19th Century Reproductions

Craft Supplies & Sundries

Documentation

Dolls & Accessories

DVD about Emma Edmonds

Games

Needlework Necessities and Novelties

Parlor Games & Entertainments

School Supplies

Sundries and Craft Supplies

Toys

Wholesale Information

Order Form

Ordering Information

Contact Us

Speaking and Consulting


Laundry Handbook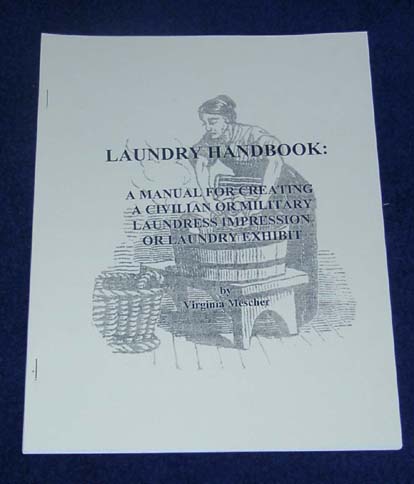 Doing laundry was a common task during the nineteenth century, albeit a very unpopular one. Arduous though it may have been, doing laundry is a task that many reenactors and spectators can relate to and can appreciate the advances in cleaning technology. This handbook will guide the historic interpreter in the steps to setting up a laundry impression, demonstration, or display. Topics addressed include steps used in doing laundry, instructions for cleaning different fabrics, and specific guidance for civilian and military impressions. There is also an extensive glossary, a discussion of the most common questions that a laundress might be asked, and a lengthy bibliography if the reader wishes to do further research.
This manual is a departure from the format of our other books and booklets in that it uses full-size pages instead of the half-sheet pages. Therefore, even though we have show the book in the picture as looking the same size as the others, it is 11 inches tall rather than 8 1/2 inches like the other books. Consequently, there is a lot more information in its 39 pages than in a booklet with the same number of pages.
This handbook does not duplicate the booklet Laundry and Cleaning Practices. There is some overlap but both contain considerable unique material. We recommend the latter book for information about laundry and both that one and this handbook for someone who wants to fully understand the laundry and cleaning processes and do demonstrations.


Price: $10.00

This book may also be purchased wholesale for resale.



If you want to look at the previous book in the list,
The Lady's Guide to Plain Sewing - Book II,
click here
.
If you want to look at the next book in the list,
Laundry Methods and Equipment,
click here
.