Generally in Alphabetical Order but with Some Obvious Placement of a Couple of Categories at the Top

Home

Toys

Games

Dolls & Accessories

Articles: Virginia's Veranda

About Us & Picture

Books, Modern

Books, 19th Century Reproductions

Craft Supplies & Sundries

Documentation

Dolls & Accessories

DVD about Emma Edmonds

Games

Needlework Necessities and Novelties

Parlor Games & Entertainments

School Supplies

Sundries and Craft Supplies

Toys

Wholesale Information

Order Form

Ordering Information

Contact Us

Speaking and Consulting


Rachel Weeping: Mourning in Nineteenth Century America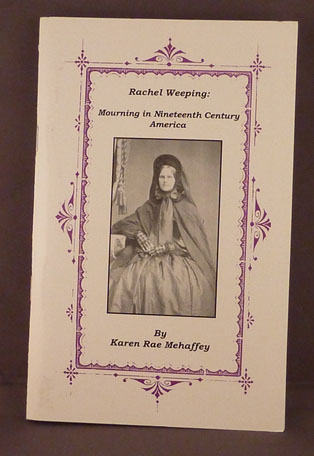 The mourning customs in the 19th century were far different from what we practice today. This book contains a comprehensive discussion of many different elements of Victorian mourning (Note to civil war reenactors - While all of the four years of the civil war period were part of the Victorian period, the Victorian period was about sixty years long, extending up into the 20th century. Topics include burying the dead, stages of mourning, mourning dress for all genders, mourning etiquette, and symbols used for mourning.
50 pages. Paperbound
$ 10.95





If you want to look at the previous book in the list,
Price Comparisons, Price Increases, and Salaries of Jobs During the Civil War,
click here
.
If you want to look at the next book in the list,
Slave Narratives,
click here
.