Historic Accounts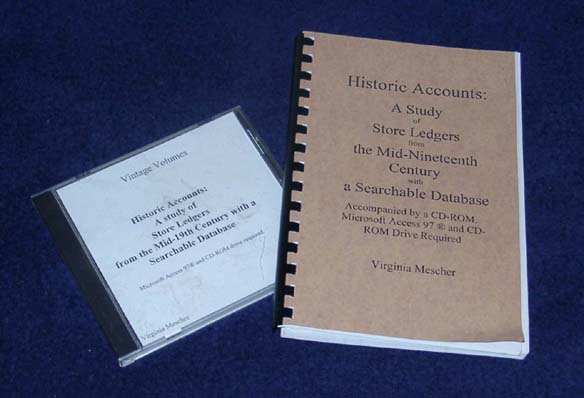 For a few years the production of this book was Virginia's obsession. She discovered a store ledger in the special collections in the library at Virginia Tech. After reviewing the ledger and seeing the wealth of information that it contained about the everyday life, she elected to transcribe the entire ledger into a searchable database. This book is the result of that transcription along with the transcription of a ledger for the wholesale purchases of a store in Indiana.
The publication that has resulted is a storehouse of information about the everyday life during the mid-nineteenth century. The frequency of sales of certain items provide hints about the relative abundance of that item within the society. By examining the titles of school textbooks that were purchased, it is possible to guess about subjects studied in school. By examining the dress length fabric purchases, it is possible to determine the ratio of different fabric used for ladies' dresses. Fashion trends can be guessed by the sale or lack of sales of certain accessories. While not included in this book, a researcher could use the data here as the start for a study of the purchases of different socio-economic groups.
The set includes the book and CD-ROM containing several databases written using Microsoft Access 97. The databases on the CD include transcriptions of two store ledgers and census data for the purchasers identified in the Adkisson ledger. The book contains detailed instructions for using the database as well as several appendices. The appendices include additional guidance in using the databases and understanding the entries. Because many of the items in the database are unfamiliar, there is also a 46-page glaossary.
The book/CD was reviewed in Camp Chase Gazette, the principal periodical for military civil war reenactors, The Citizen's Companion, the companion periodical for civilian civil war reenactors, and The Watchdog, a periodical that addressed the historic accuracy of civil war reenacting. All the reviews highly praised the value of Historic Accounts for conducting research. The Watchdog, in mentioning the Steamboats Arabia and Bertrand, stated, "This publication is a similar gold mine of research material minus the objects to examine."

The price of Historic Accounts which includes two ledgers and other material on a CD and a guidebook that is a combination user's manual, glossary, and general information source is $49.50

This book is also available wholesale for resale.


If you want to look at the previous book in the list,
Historical Uses of Herbs,
click here
.
If you want to look at the next book in the list,
Knitting A La Mode,
click here
.